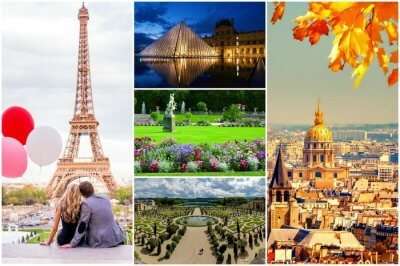 Glorifying the banks of Seine River, Paris has something mysteriously attractive in its air, architecture, and the ambiance. The magic has been enticing couples from all over the world for years and years. It isn't just the most romantic places in Paris that make this city special, the true charm of the place lies in the tiny details: the fancy tea salons, beautifully trimmed trees, the fallen leaves of London Plane on cobblestone streets, soft-crust pies, and what not!
Wonderful Paris honeymoon destinations
Whether you're in an unknown little corner of the city or at a popular place, Paris doesn't stop hypnotizing you. Your visit to Paris with that special someone is sure to strengthen your lifelong love. Check out these beautiful honeymoon destinations in Paris
Eiffel Tower – A modern symbol of love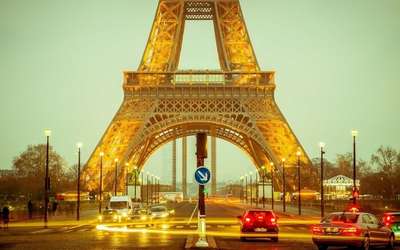 Eiffel Tower is probably the most popular architecture in the whole world. Designed by Alexandre-Gustave Eiffel, the tower was built for the Paris Exhibition of 1889. You can take an elevator or climb up the 360 steps to reach the first level and 344 more steps to reach the second level.
The top level of the tower is at the dizzying height of 276 meters with a champagne bar up there. There's also a restaurant that welcomes you with soft lighting and minimalist furnishings. The lovely dining place features expansive glass windows that let you enjoy the spellbinding views while your have dinner with your sweetheart. Creating a breathtaking canvas for couples, it sure is one of the most romantic places in Paris.
Things to do around Eiffel Tower: Climb the stairs of the tower to learn its history; enjoy a glass of champagne at Champagne Bar, at the top of the tower; have a French picnic at the foot of the tower; and take beautiful pictures with the glowing tower, which is certainly one of the most wonderful things to do in Paris at night.
Entry charges of Eiffel Tower
Lift entrance ticket (valid to 2nd floor) – €11
Lift entrance ticket to top – €17
Stairs entrance ticket (valid to 2nd floor) – €7
Dinner for two: Begins at € 85
Opening hours: Mid Jun – Sep, daily 9 am – 12:45 am (11 pm for summit); rest of year, daily 9:30 am – 11:45 pm (10:30 pm for summit); stairs close at 6 pm in winter
Nearest metro: Bir-Hakeim
Europe Honeymoon Packages On TravelTriangle
Explore the most romantic places to visit in Europe, from Paris to the Venice canals, and from the Greek islands to the Swiss alps. Book customized packages Inclusive of airport transfers, cab, resort, sightseeing, and meals offered by expert agents on TravelTriangle. Book Now!
Amsterdam, Brussels & France 7D/6N Honeymoon @ Rs 55,000
Plan your honeymoon today!
Book Now
Italy & France Europe Honeymoon 7D/6N @ Rs 64,999
Get quotes from multiple travel experts.
Book Now
Mesmerizing Spain & France 8D/7N Honeymoon @ Rs 65,000
Compare & customize quotes before booking.
Book Now
France Honeymoon 9D/8N Packages @ Rs 70,000
Have Questions? Talk to our travel experts today.
Book Now
Italy Honeymoon 10D/9N Tour Package @ Rs 90,000
Best prices guaranteed. EMI option available.
Book Now
See more at TRAVELTRIANGLE.COM
Visit Website
< >
Temple of Love – For hopelessly romantic couples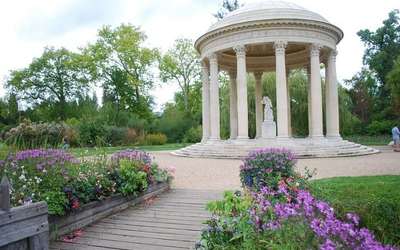 Built in 1778, on a small island in The Parc—Temple of Love is a replica of Bouchardon statue. The most romantic part about the complete trip to Temple of Love is the romantic boat ride that takes you to the island. Couples from different parts of the world come here to renew their wedding vows. It is believed that kissing your partner at the center of the folly strengthens your love. Won't you like to try it once!
Things to do around Temple of Love: Taking a lazy walk under the starry sky in Piece d'Eau des Suisses garden is amongst the most romantic things to do in Paris for couples. It's just a few minutes walk from the temple.
Entry fee for Temple of Love: None
Nearest metro: Michel Bizot station
Must Read: 10 Restaurants Near Eiffel Tower In Paris To Enjoy A Luxurious Dine-In Experience
Luxembourg Gardens – A riot of colors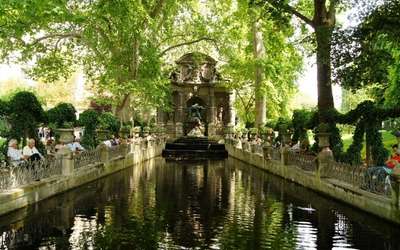 The Luxembourg Gardens are spread across 25 hectares in the heart of the capital. Decorated with statues, fountains, and a million flowers—these gardens attract many tourists. The left bank area of the garden is serene and sublime, which means, you must take a walk a long walk hand in hand with your sweetheart. You are also going to love sitting on the velvety grass with pleasant fragrance of flowers blowing in the wind.
Things to do around Luxembourg Gardens: Watch the popular puppet show in the garden area.
Entry charges Luxembourg Gardens: None
Opening hours: 7:00 am to 1 hour before sunset in summer and 8:00 am to 1 hour before sunset in winter
Suggested Read: 10 Restaurants Near Eiffel Tower In Paris
Parc des Buttes Chaumont – The garden of romance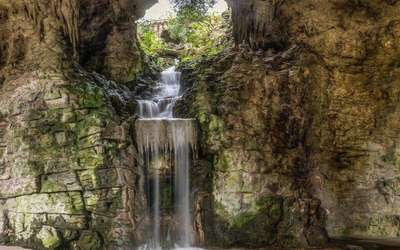 There are many parks in Paris but Parc des Buttes Chaumont is the most distinctive and romantic park in a tranquil environment. It occupies 61 acres of hilly area in the northeastern reaches of Paris. This whole place was carved out of the slums and quarries with dynamites, and then decorated with extremely romantic elements like a lake, waterfalls, a grotto, and a folly. This picture-perfect place is heaven for couples in love. You will see mostly couples inside the park.
Things to do around Parc des Buttes Chaumont: Watch a puppet show at Theatre Guignol Anatole and play interesting games at Gamescape.
Entry charges for Parc Des Buttes Chaumont: None
Opening hour: Summer: 7:00 am to 10:00 pm and Winter: 7:00 am to 8:00 pm
Suggested Read: 10 Incredibly Romantic Places In Paris For Couples On A Honeymoon
River Seine – Go cruising and dining on the river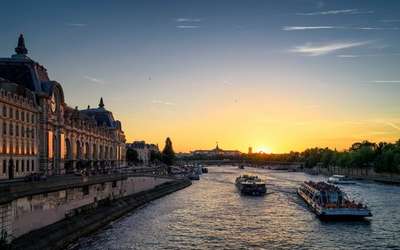 It seems that River Seine was created for romance. While you stroll along the river, you'll be mesmerized by the gorgeous city lights. You can simply stand and gaze the river sparkling with the reflection of a thousands lights. If you decide to go here with your partner in the evening or afternoon, then you shouldn't miss cruising on Seine. You can also enjoy a 3-course meal on a cruise while you sail on the glittery waters. The Seine is one of the most romantic places to visit in Paris.
Things to do around River Seine: Take a romantic stroll around and explore the beautiful bridges along the river and click some pictures to capture your memories.
Cruise and meal charges for two: About € 100
Suggested Read: The Most Romantic Restaurants In Paris
The Louvre – For a romantic evening and the best pictures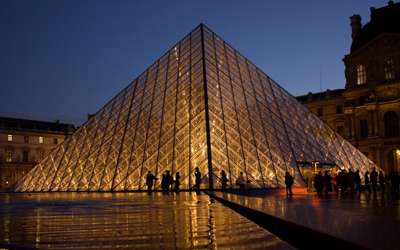 What's there not to love about The Louvre! It's the world's most beautiful and the largest museum. It houses one of the most impressive art collection, which attracts art lovers from all over the world. You'll be fascinated by the baroque-style museum and and palace— LeMusée du Louvre in French — which is situated along the banks of the calm Seine River.
Agreed, it is the most touristy place, but you should come here in the evening when it's silent and calm, find a comfortable corner and sketch a portrait of your lover. Don't worry, no one's going to raise an eyebrow, it's Paris, a home of artists.
Things to do around Luxembourg Gardens: Explore souvenir shops and fancy cafes Tuilleries Gardens and you can also stroll along the Seine.
Entry charges for Luxembourg Gardens: €15
Opening hours : Monday, Thursday, Saturday, Sunday: from 9:00 am to 6:00 pm and Wednesday, Friday: from 9:00 am to 9:45 pm.
Suggested Read: 10 Indian Restaurants In Paris That'll Transfer You To The Desi Land
Notre-Dame – A place to discover divinity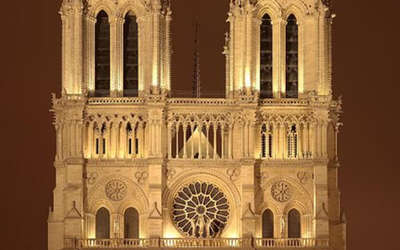 Nobody's trip to Paris is complete without visiting the world-famous Notre Dame Cathedral church. Standing about 400 feet tall with two giant towers, this stunning church is considered the finest example of French Gothic architecture. Its gothic architecture makes you fall in love with its detailed Gothic carvings, spectacular rose windows, and the marvellous sculptures.
When the sun goes down and the whole world sleeps, so to speak, the view of the church is indescribably impressive. This timeless beauty is certainly among the best romantic places in Paris and nothing can beat it!
Things to do around Notre Dame Cathedral: Pay a visit to The Memorial Des Martyrs De La Deportation; those with love for for literature must explore Shakespeare and Company; go to Square Jean-XXIII for art displays and live music concerts, which is one of the most fun things to do in Paris for couples.
Entry charges for Notre Dame Cathedral: No fee for the main hall entry and € 7.50 for tower entry
Opening hours
July-August: 9:00 am to 7:30 pm and weekends 9:00 am to 11:00 pm
April-June and September: 9:30 am to 7:30 pm
October-March: 10:00 am to 5:30 pm
Nearest metro: Cité or Saint-Michel (Line 4)
Note: Towers are closed on January 1st, May 1st, and December 25th
Sacré Coeur Basilica – A gorgeous church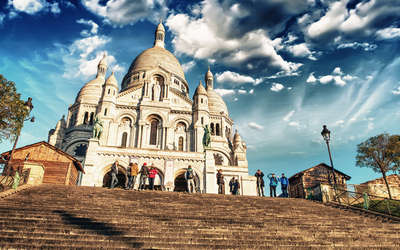 Sacré Coeur Basilica is one of the most spectacular churches in the world. Every couple planning a visit to Paris must witness the unspoiled beauty of this marvelous architecture. This Roman style domed catholic church is located on the top of Montmartre hill. As it is the highest point of the city, the sweeping views will blow your mind away.
Things to do around Sacré Coeur Basilica: There are many artists near Sacred Heart Basilica, so you must get a couple portrait; explore Dali Museum dedicated to a Spanish painter; have a typical French meal at Un zèbre à Montmartre Restaurant, and tasting vine in the vineyard of Montmartre is one of the best things to do in Paris for couples who love vine.
Entry charges Sacre Coeur Basilica: None
Opening hours: 6:00 am to 10:30 pm daily
Nearest metro: Abbesses – Line 12, Anvers – Line 2, and Lamarck Caulaincourt – Line 12
Note: There are 300 steps to climb and no lift
Banks of River Seine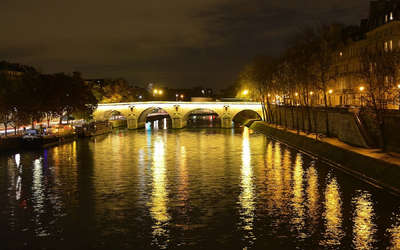 The banks of river Seine are decorated with a number of admirable architectural structures built from the middle ages to the 20th century. The walkway along the river has become a popular kissing spot for the couples. The serene calm environment away from the usual hustle – bustle of the city will let your love breath.
Things to do around: Sit hand in hand on the stone ledge by the river and you can unfold some of the most romantic conversations
Entry charges Luxembourg Gardens: None
Arc de Triomphe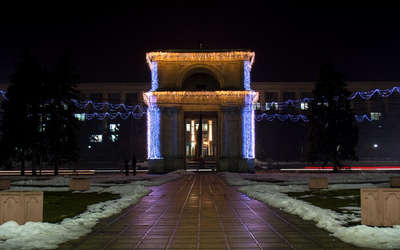 Arc de Triomphe is one of the most famous monuments in Paris, standing at the western end of the Champs-Elysees at the centre of Place Charles de Gaulle. The structure is a huge gateway monument. Champ- Elysees, the road that leads to Arc de Triomphe is one of the most famous streets in Paris. The tree-lines street is best for a night romantic stroll with you partner. There are many restaurants, shops and theatres along the street where you can hangout after the walk.
Things to do around: Get a chocolate massage done in the nearby Four Seasons George V Hotel.